to send Holiday Wishes and Gourmet Delights
A Bite of Chocolate Gift Basket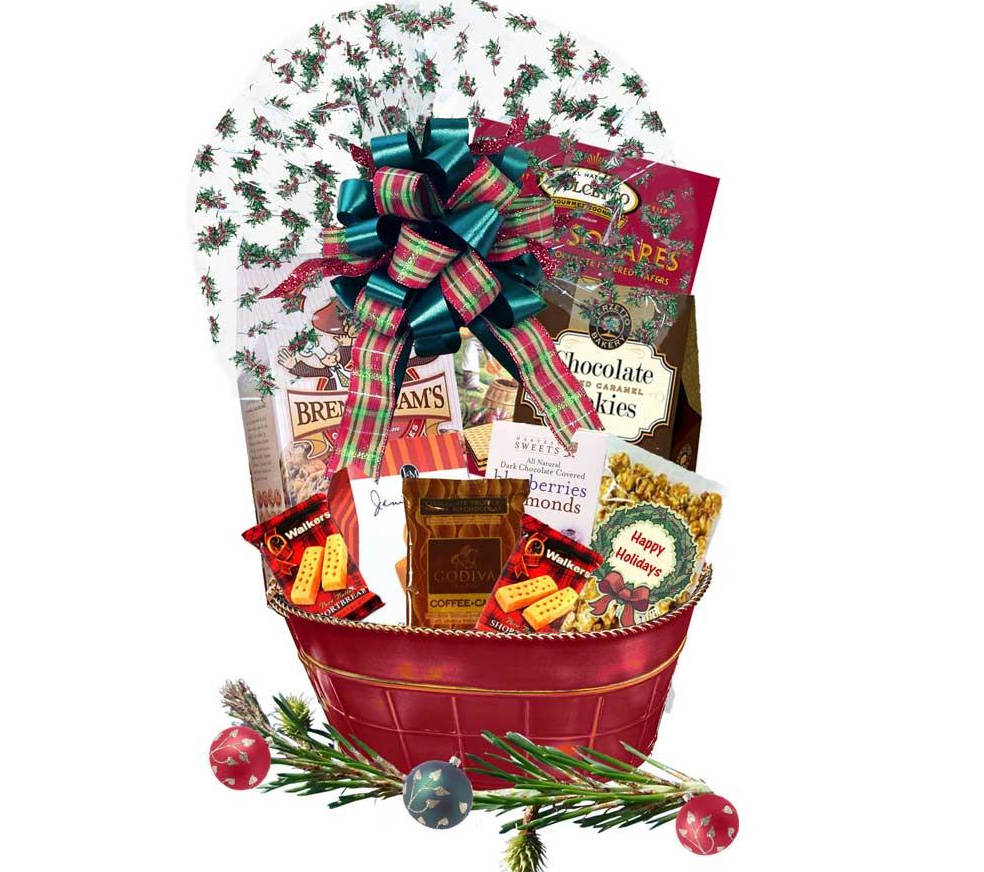 This decadent guilty pleasure contains enough chocolate to satisfy any craving... one delicious bite at a time.

These amazing treats start with salted chocolate caramel cookies, chocolate chip pecan cookies, Walker shortbread cookies, holiday themed caramel popcorn, cheese straws, artisan baked chocolate layered wafers, and end with Godiva coffee.

A perfect gift for a family to share, or as a corporate office gift.
$125.00 as shown
Also available at $75.00 and $100.00
The Crowd Pleaser Gift Basket
Designed to open and eat, this beautiful gift basket features an impressive assortment of sweet and savory snacks. Show your valued customers and loyal employees how much you appreciate them by sending this gourmet assortment.

A perfect gift to share or as a corporate office gift.
Holiday Poinsettia Gift Basket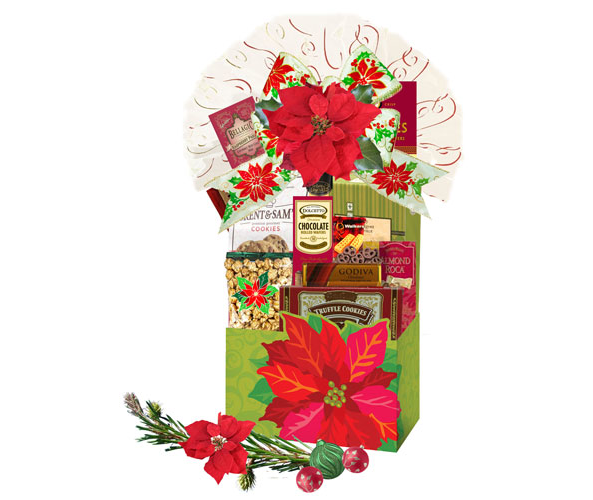 Deliver your best Season's Greetings with this gift basket box beautifully presented in a festive poinsettia basket box adorned with silk ribbon and a red poinsettia. With a combination of sweets, savories, and special holiday treats, your friends, family or most important clients are sure to delight in the gourmet goodies tucked inside.
After the goodies are gone, the basket box makes great storage for Christmas cards, or fill it with holiday greenery for a table centerpiece.

Each gift is carefully hand crafted and designed after you place your order.

Include a personalized gift message at checkout.
We Appreciate Your Business!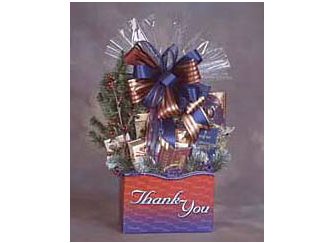 Show your special clients just how much you appreciate their business with this corporate thank you gift! Decadent fudge, coffee, cookies, chocolates and snacky items make this a gift that will definitely be enjoyed!
Shown At $65
Available From $45 - $75
Gingerbread Sweet Treats Gift Basket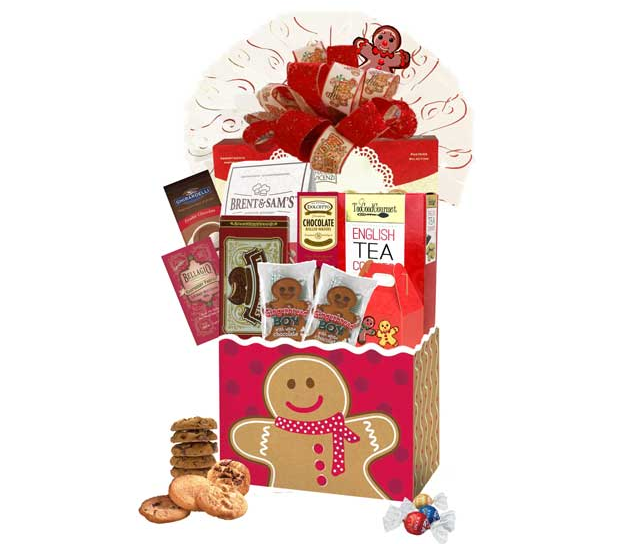 Send delicious holiday greetings packed in a whimsical Gingerbread gift basket box filled with sweet treats. It includes gingerbread cookies with an exceptional white chocolate icing, chocolate chip pecan cookies, English tea cookies, chocolate truffle cookies, chocolate wafer squares, hot chocolate, assorted chocolates, and a host of other delights.
Christmas Cheer Gift Basket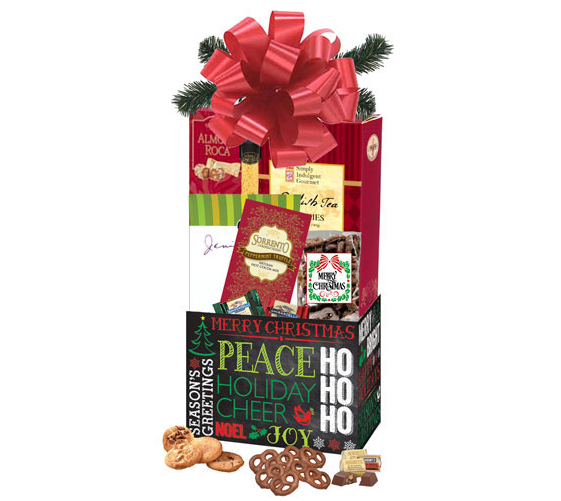 Send a little Christmas Cheer to your lucky friends and family with a gift filled with sweet surprises. From sweet, bite-sized shortbread cookies with cinnamon and chocolate covered pretzels to buttercrunch toffee with almonds and dark chocolate covered biscotti there's something for every sweet craving. And did we mention, peppermint truffle cocoa, assorted chocolate and more.
Add a little Godiva to make it extra sweet.
Available at $30, $35 and $40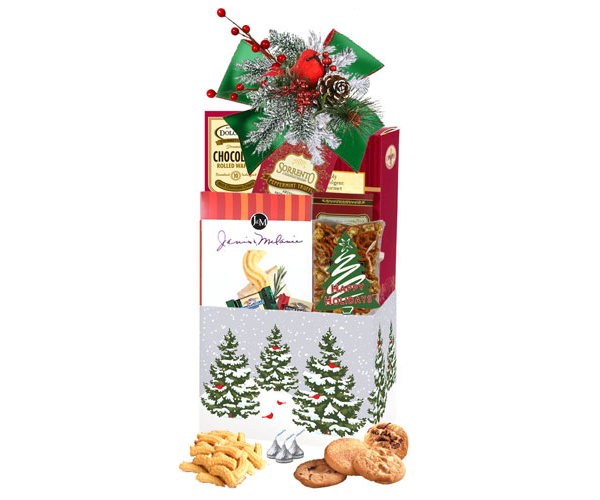 With a combination of sweets, savories, and special holiday treats, your friends, family, employees, or clients are sure to delight in the gourmet goodies tucked inside. Warm their heart and send holiday wishes.
Available at $35, $40 and $45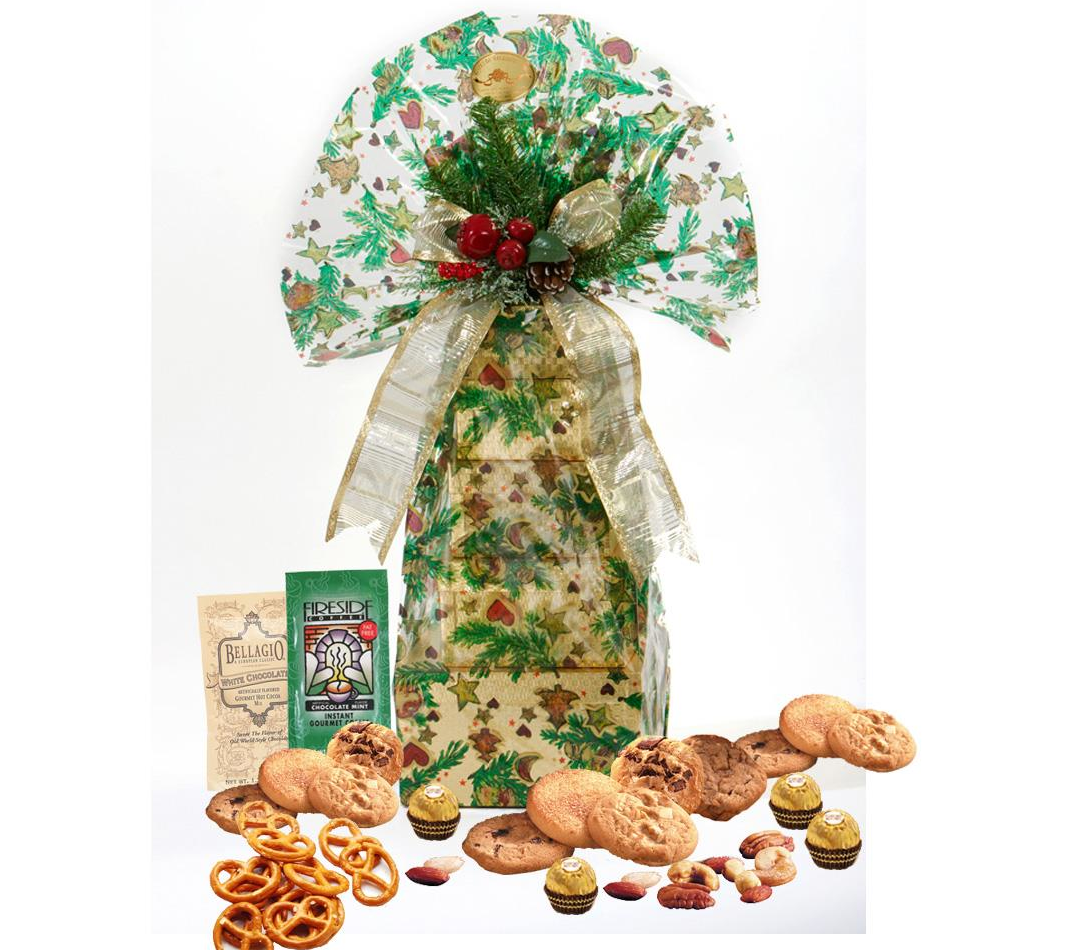 This holiday collection is a wonderful way to share the spirit of the season. Tier 1 and Tier 2 are filled with chocolate, Tier 3 is filled with popcorn, Tier 4 is filled with cookies and gourmet coffee, and Tier 5 is filled with nuts and pretzels. They'll love receiving so many delicious holiday treats.
Perfect gift for family and friends, and large enough to share as a corporate office gift.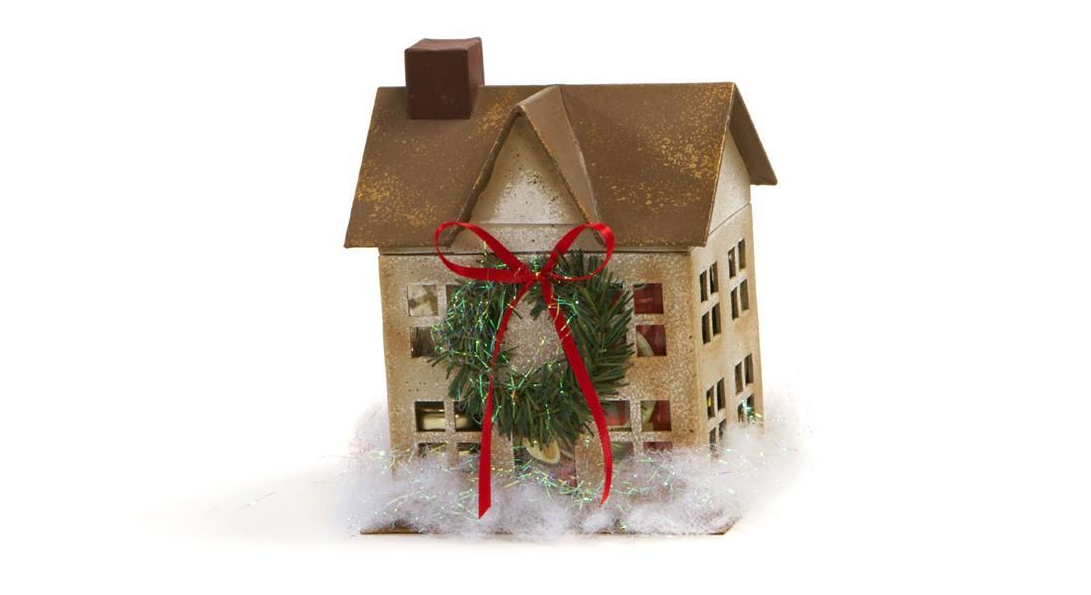 This fanciful gift delivers warm wishes, delicious sweets and savory snacks, and makes a great winter decoration for any home or office. Filled to the roof top with an assortment of cookies, chocolate, hot cocoa, and savory treats, it's sure to please.
Available at $30, $35 and $40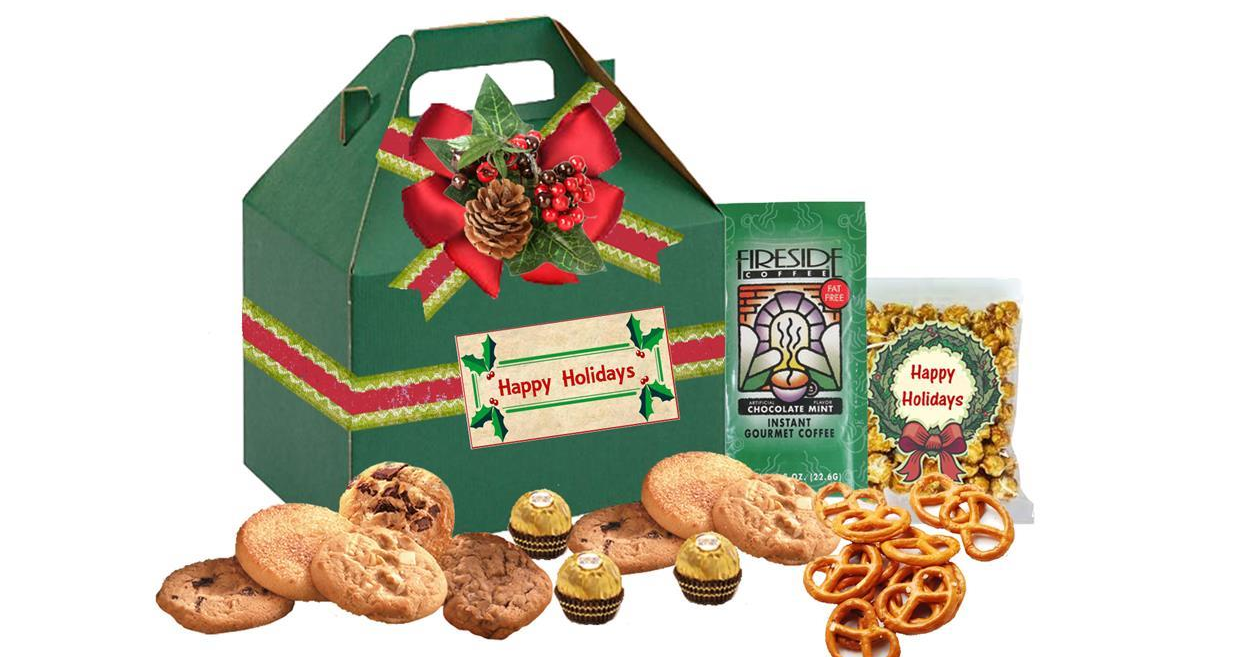 An amazing treat that matches your budget.

This gift is filled with delicious cookies, pretzels, gourmet coffee, Happy Holidays popcorn, and chocolate delights.

Perfect gift for family and friends, or as a corporate office gift.
For our business clients: You can customize the gift box label with your company logo or message. Call 410-313-8354 for additional information.
Numerous unique and personalized gift and gourmet gift designs are available.
Whether you need a customized gift for business associates, employees, referral sources, friends or a family member we can design a memorable gift to fit your treasured occasion.
Call 410-313-8354
We'll do our best to satisfy your sweet cravings, meet your needs and stay on budget.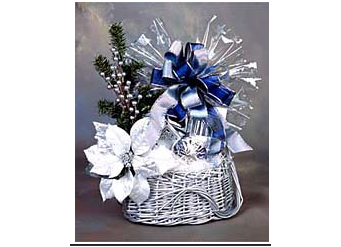 Silver berries and sparkling poinsettias adorn this shimmering basket. It's filled with an assortment of cookies, chocolates, savory snack items and coffee.
Shown at $100.00
This basket is also available at $125 and $150.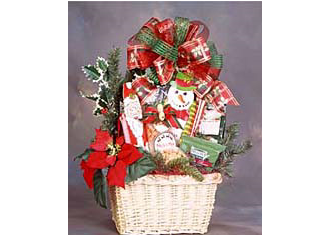 Traditional holiday colors of red and green are sure to get you in the spirit! Great for a family or an office full of people - this one has lots of treats to enjoy! Santa's snack mix, North pole peppermints, toffee peanuts, cookies and all the delights of the holiday season!
Shown at $125.00
Available Starting at $75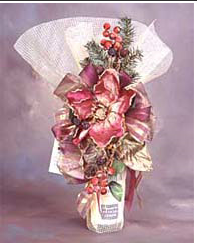 Want to give a bottle of wine to your best clients? Let us wrap it in style! You provide the wine - we wrap it so elegantly they'll won't even want to open it!

$75.00, as shown, with ribbon, magnolias and wine biscuits.

Add a set of flutes to the back for an additional $25.00.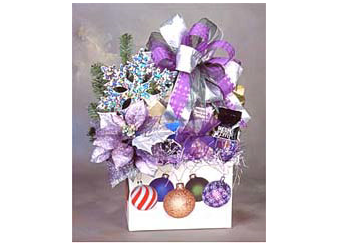 And trim the tree! This beautiful holiday box is stuffed with all kinds of gourmet treats like flavored coffee, popcorn, chocolates, cookies, seasoned pretzels and much more!
Shown at $85.00
This box is also available in a small size for as little as $45.00.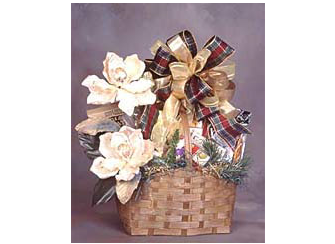 We've filled a walnut stained basket with delightful treats and enhanced it with the warmth of velvety magnolias. Products include seasoned pretzels, cashew nuts, outstanding chocolates, a wonderful assortment of cookies, popcorn, snack mixes and more!
Shown at $175.00
Available at $125.00 and $150.00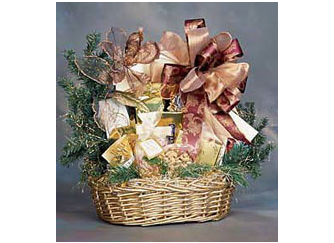 We've filled a large gold basket with a delectable assortment of our very finest! It's bursting with mouth watering goodies, like assorted cookies, nuts, chocolates, candies and more. Enhanced with gold and bronze magnolias and ribbon, it makes a stunning presentation.
Shown at $250.00
Also available at $150.00 and $200.00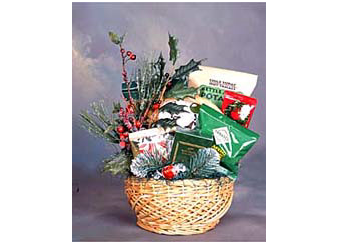 It's the time of year when you need to remember neighbors, friends and business associates. This snack basket is filled with chips, cheese bites. Truffles, pretzels, cocoa and more!
Priced at only $75.00
It's available in all sizes from $65 to $100!
Even our budget designs look great! This cute holiday basket has snacky items sure to delight a neighbor or business associate! Seasoned pretzels, assorted cookies, dip mix, chocolate truffles and more!
Priced just right at only $75.00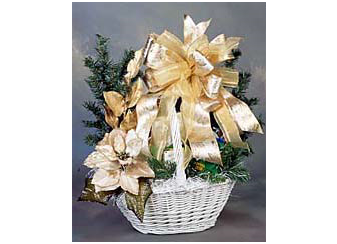 A glossy white basket is filled with elegant packages of our best gourmet items! From white chocolate macadamia nut cookies to chocolate laced popcorn, this basket has a little bit of everything! We've included flavored coffees, nuts, truffles and more and trimmed it with gold poinsettias and beautiful gold ribbon.
Shown at $225.00
Also, available at $100.00 and $150.00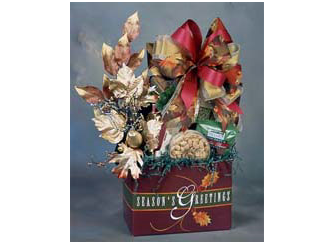 This bountiful box is bursting with a wonderful assortment of gourmet treats. Cookies, popcorn, chocolates, cashews and more make this a gift that's sure to be appreciated.
Shown at $100.00
Available from 75.00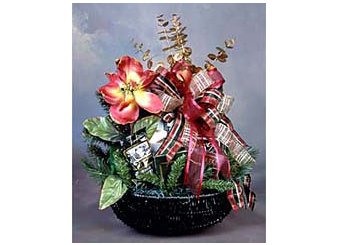 This handsome hunter green basket is tailored, yet elegant. It's filled with a nice variety of our best mix of sweet and snacky products.
Shown at $225.00
It is also available at $125.00 and $175.00