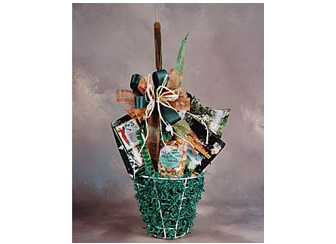 If golf is your bag, try our wire golf bucket, complete with 19th Hold Snack Mix, seasoned pretzels, almond krunch popcorn, Par 3 mix, and nuts and more. Trimmed with a cattail and ribbon for real "golf course" look!
$100 as shown
Available from $65
Order #SP02
Price $100.00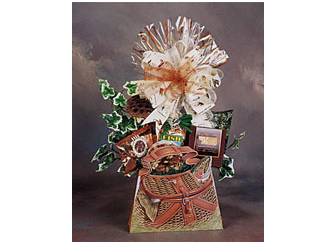 For the fisherman who's always telling tales about the big one that got away, this fish box is just the right gift. Bursting with snacks like Gone Fishin Snack mix, biscotti, assorted nuts , cookies, and pretzels, it's a gift he'll love!
$75 as shown
Available starting at $65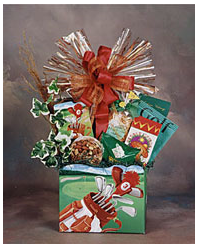 You're sure to score a hole in one with that special client when you give him this box full of gourmet goodies! Loaded with 19th Hole Snack Mix, Golf Popcorn, Assorted nuts, pretzels, cheese tabs and more, this is a gift that will be appreciated!

$100 as shown
This large box starts at $75.
Small golf box available at $35.
Order #SP32
Price $100.00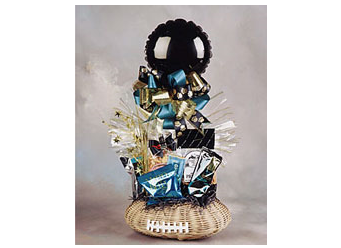 So you need a gift for a football fan? Have we got what it takes to make him ROAR! Our football shaped basket is stuffed with seasoned pretzels, assorted nuts, caramels, candies and more! Guaranteed to score a touchdown with your clients!
This design can be themed for any team.
Ask about our Ravens Cooler - It's perfect for tailgating!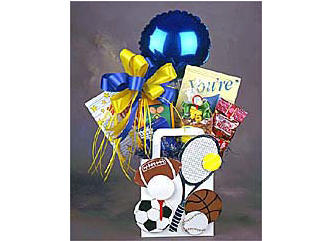 The themes on this colorful tote bag, fit just about every sport! We've filled it with tennis themed snack mixes, mixed nuts, truffles, pretzels, You're #1 Popcorn and cookies.
$65 as shown
Available from $55 - $65
Surprise your sports fan with the perfect sports themed gift or gift basket.
If he can't seem to get enough of the sports channels, send him a sports themed gift, basket, or gift box
loaded with chips and dip, peanuts, pretzels, popcorn, sausage, sports drinks, and a bunch of other goodies to enjoy while watching that big game, race, or golf tournament. No matter what sport the recipient is into, we can create a gift to match their sports obsession.
From football and baseball to hockey and soccer, or from golf to fishing, any friend, business associate, family member, or spouse will be filled with joy when receiving a sports themed gift basket customized to celebrate their favorite past time. Each gift, gift basket, or gift box can be personalized with the colors of your sports fan's favorite team.
When someone falls in love with a sport they want to share it with their loved ones, and by sending a personalized sports gift or gift basket shows that you understand and appreciate their love for the sport. At Gifts to Treasure, Inc., we understand that love and obsession for sports, and we take pride in creating the perfect sports fan gift basket for your sports enthusiast.