Send Wishes of Joy and Celebration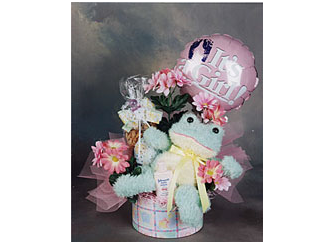 We've wrapped up this froggie in style! The cute baby dish also holds our Baby Bits Snack Mix for mom and dad and a couple of toiletries for the newborn!
$65 as shown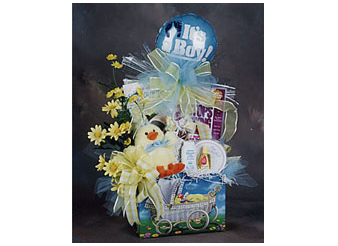 This darling box is loaded with things for the new baby and the parents, too! A plush duck, Baby Bits Snack Mix for mom and dad to enjoy, It's Your Turn Spinner Game, so they can take turns feeding and changing the baby, plus other assorted baby products!
$55 as shown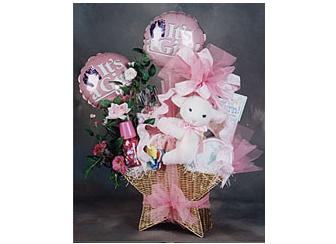 A star basket is the perfect container for this baby theme. We've filled it with an adorable plush animal, It's Your Turn Spinner Game, Our Baby's First Footprint, Baby Bits Snack Mix and more. Enhanced with pink flowers and two balloons and wrapped up with beautiful ribbon and net tulle, it's a real show piece!
$55 as shown
Available from $50 - $65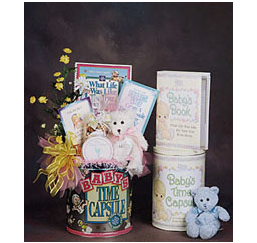 What a great way to keep everything from the baby's first year of life! Included are "letters to the future", to be written by relatives and then placed in envelopes that will be put into the time capsule, along with other keepsakes, like their Christening gown, etc. We've added a plush animal, rattle, baby lotion, shampoo, Baby's First Footprint kit and Baby Bits snack mix (for mom and dad to enjoy), and enhanced it with daises and ribbon for an adorable look!
$75 as shown
Available from 50 - $100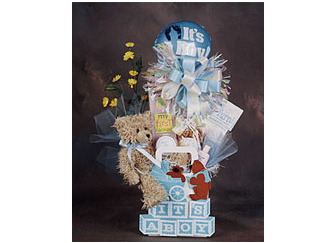 This cute little tote bag is stuffed with goodies for the new bundle of job! A receiving blanket, plush bear, Baby Bits Snack Mix, Baby's First Lost Tooth, My First Cookies and more! Also available for girls
$50 as shown
Available from $35 - $55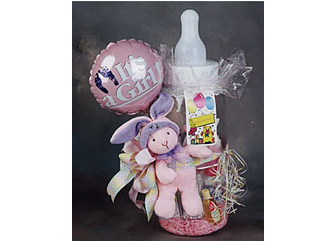 An adorable way to celebrate the birth of a new baby, this bottle is not only a cute container, but also a bank! We've filled it with a baby bottle, diapers, baby toiletries, q-tips and My First Cookies! The plush animal and balloon are cleverly tied to the outside of the bottle with pastel ribbon! A real cute gift!

$50 as shown
Available from $40 - $60
Send a truly memorable new baby gift basket. Whether you're celebrating a baby boy, baby girl, twins or triplets, our baby gift baskets are sure to be a hit. Baby gifts are customizable and are as original as your little one. From baby time capsules, baby gift baskets, and gourmet gift boxes to unique baby gifts and baby shower favors, these baby gifts are perfect for the occasion. Spread the cheer and joy of this special occasion by sending unique and personalized baby gifts.

Add to their joy and send a gourmet gift basket or delicious gift box filled with treats to the hospital. This is another great way for Mom and Dad to spread their joy and celebrate this special occasion.
Specializing in distinctive gifts, gourmet gift baskets, and unique gift boxes for every occasion.