Thank your healthcare heroes for their selfless work ...
with fun and tasty snacks.
Happy Nurses Week Gable Box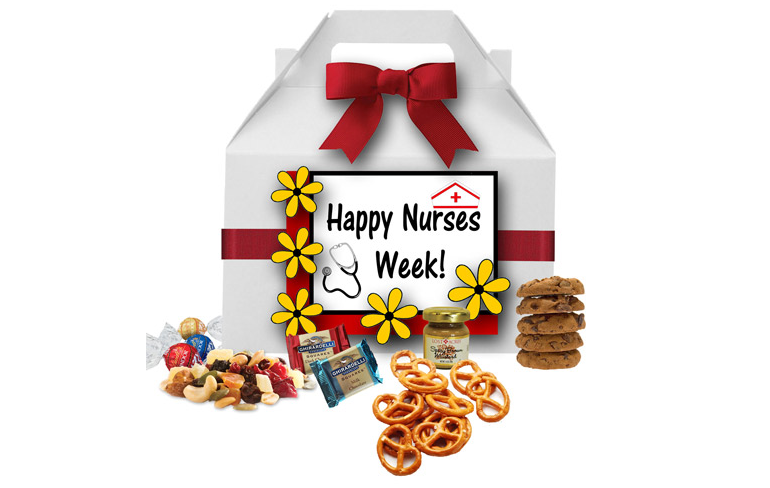 Even Heroes need a little recharge, and the Happy Nurses Week Gable Box is a fun and festive gift filled with the right perfection of sweet and savory treats to recharge any healthcare hero.
Available at $25, $35 and $45
Nurses Week Sweet Treats Gift Box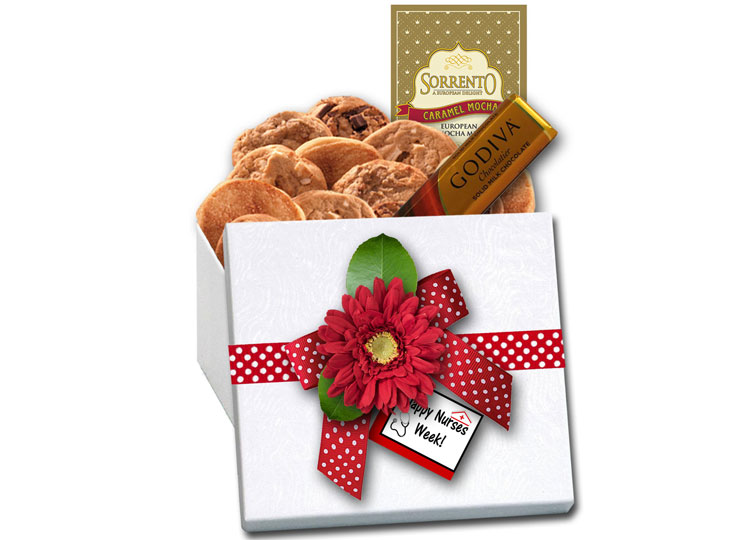 Does your hardworking dedicated nurse have a sweet tooth? This gift box contains just the right amount of sweet treats to satisfy their sweet cravings.
A smaller version is available at $30.00
Thank You for All You Do - Gift Box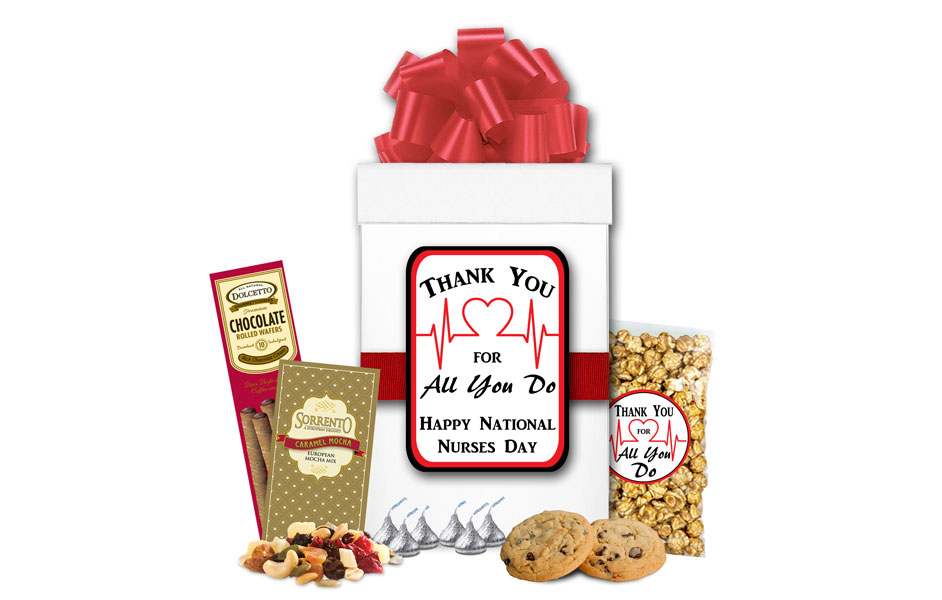 This impressive gift box which features a "Thank You for All You Do and Happy National Nurses Day" label is wrapped with a beautiful red bow, and is a great way to show how much you appreciate the special nurse in your life. Inside is an assortment of sweet treats that include delicious chocolate chip cookies, popcorn, caramel mocha cocoa, chocolate filled wafer rolls, chocolate candies, and a fruit and nut trail mix.
Thank You Nurses Gift Tower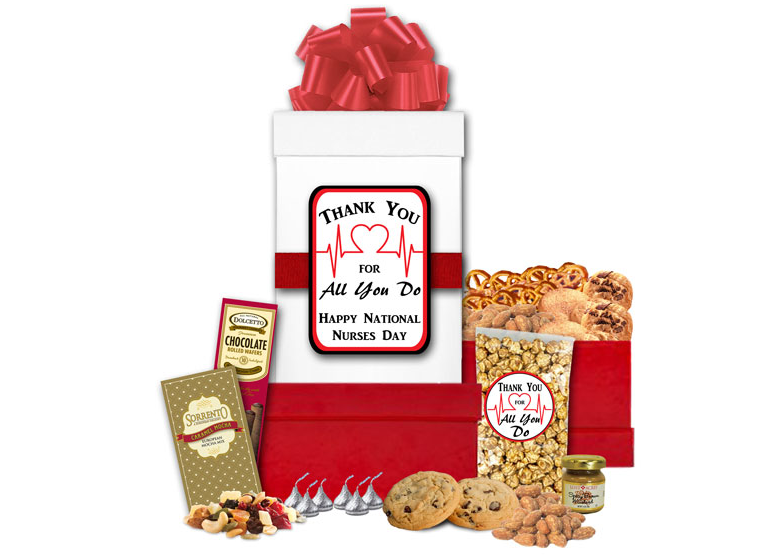 Acknowledge the nurse in your life with this impressive gift tower wrapped with a big beautiful red bow and featuring a "Thank You for All You Do" label. This gift tower is filled with popcorn, an assortment of delicious cookies, caramel mocha cocoa, fruit and nut trail mix, dipping pretzels and dipping mustard, almonds, handcrafted wafer cookies, and chocolate candies.
Shown at $60.00

$75.00 - With Godiva Chocolate and Dark Chocolate Sea Salt Caramels.
Heartfelt Thanks Gable Gift Box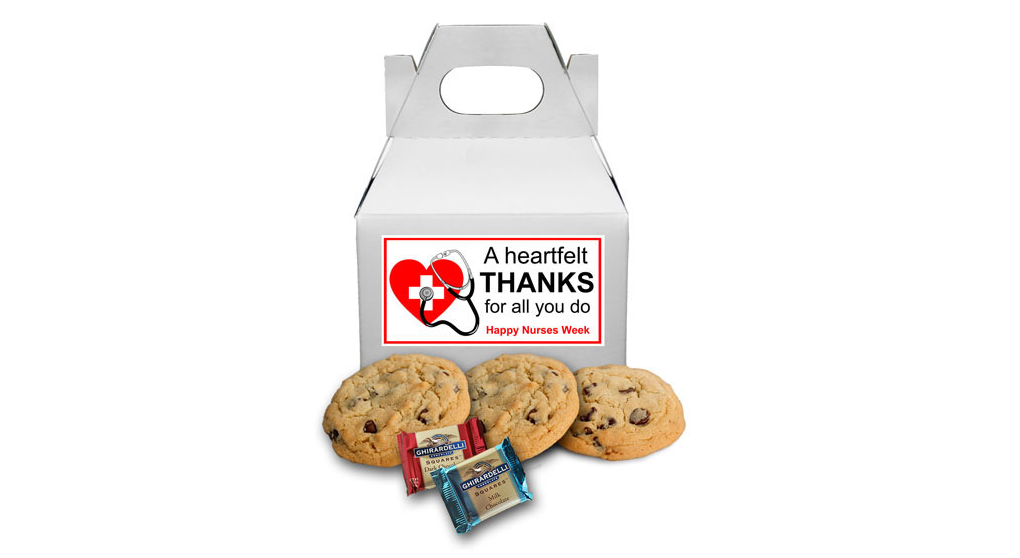 Need to express your appreciation on a limited budget or have a large group of nurses you want to honor? This gift box can be priced to to fit your budget, and you can honor all of them.
Call 410-313-8354 for details.
Even Heroes need a little recharge! Send your healthcare hero, aka favorite nurse, a gourmet gift as a way to thank them for their selfless work.

Whether the nurse in your life is a coworker, friend, family member, hospital worker, clinical staff, or your caregiver, honor them on Nurses Day with a gourmet treat. You'll find sweet and savory gifts, gourmet gift boxes, gift towers and gift baskets in a variety of price ranges that acknowledges their dedication, care and commitment. If you need to honor a group of nurses, a customized gift package can help you honor all the nurses in your life.

Nurses Day is celebrated on May 6 to begin a weeklong celebration that culminates in honoring the birthday of Florence Nightingale, the founder of modern nursing.

We ship anywhere in the U.S., not just in Maryland, but you are still dealing with your local gift shop right here in Columbia/Ellicott City, Maryland. Local delivery is also available to the following locations: Ellicott City, Columbia, Catonsville, Clarksville, Dayton, Elkridge, Glenelg, Glenwood, Marriottsville, Northern Laurel, Owings Mills, Pikesville, Reisterstown, Savage, West Friendship, Woodbine and Woodstock.

Since 1997, Gifts to Treasure, Inc. has served both individual and corporate clients throughout Howard County, Baltimore County, Arundel County, PG County, Baltimore City, as well as the state of Maryland, Washington, DC and the USA.
Please contact us for additional gift ideas, or if you need a customized gift.
Contact us at: 410-313-8354
Email:
Gift.Specialist@GiftstoTreasureInc.com
Specializing in distinctive gifts, gourmet gift baskets, and unique gift boxes for every occasion.