and make him smile with delicious gourmet treats.
Happy Father's Day Gift Box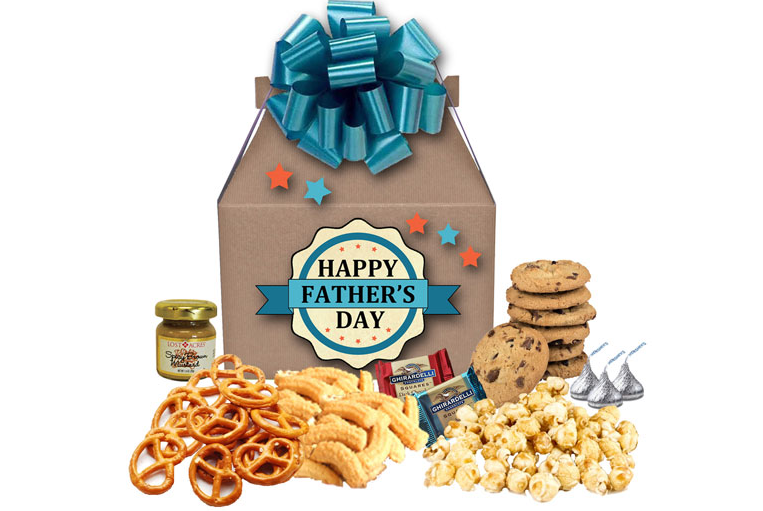 Send Dad a delicious assortment of cookies, popcorn, cheese straws, pretzels with dipping mustard and assorted chocolate delights.

These sweet and salty flavors are sure to delight Dad.
Shown at $38.00
Available from $38 to $50.00
Father's Day Gourmet Gift Tower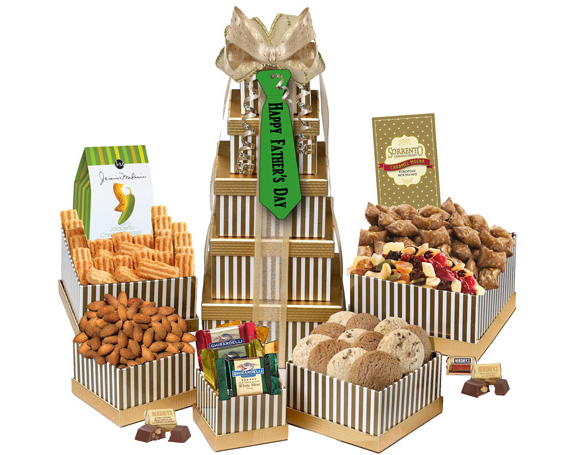 A classic collection of Dad's favorite snacks. Definitively savory, crunchy, chewy and sweet, this tower of five gift boxes is filled with cheese crackers, smoked almonds, peanut butter pretzels, trail mix, cookies and chocolate. The tower is accentuated with a hand-tied satin ribbon and a Happy Father's Day tie shaped tag.
Available at $55.00 and $75.00
World's Greatest Dad Gift Basket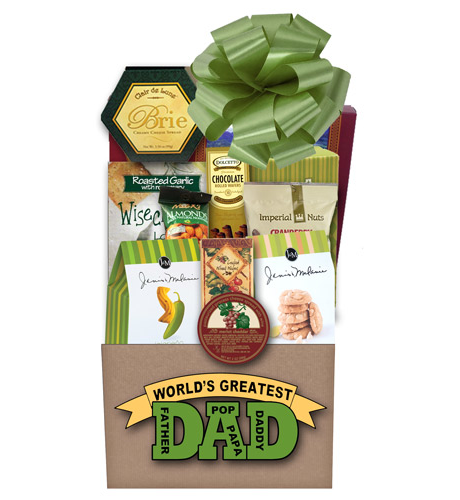 Express your love and appreciation to the "World's Greatest Dad" and surprise him with a gift basket filled with sweet and savory gourmet goodies. This Father's Day assortment includes savory cheese straws, wine flavored cheese, Brie cheese spread, crackers, almonds, cranberry snack mix, sugar cookies, assorted chocolate cookies, and key lime cookies.
Meat and Cheese Snack Box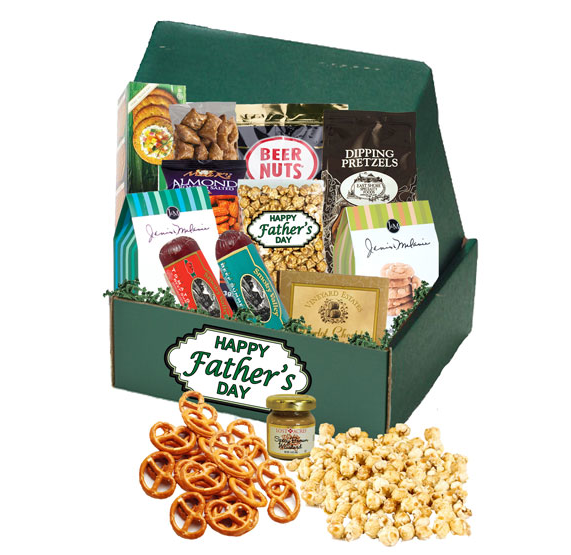 Let Dad snack his way through the perfect Father's Day with this ensemble of savory treats. He will enjoy hearty sausage and salami, vineyard merlot cheddar cheese, brie creamy cheese spread, savory crackers, premium "Happy Father's Day" caramel popcorn, beer nuts, hickory smoked almonds, cheese straws, dipping pretzels with a dipping mustard, and peanut butter filled pretzels.
$80.00 - When you add a few sweet treats such as our key lime cookies and/or chocolate chip cookies.
World's Greatest Dad Gift Box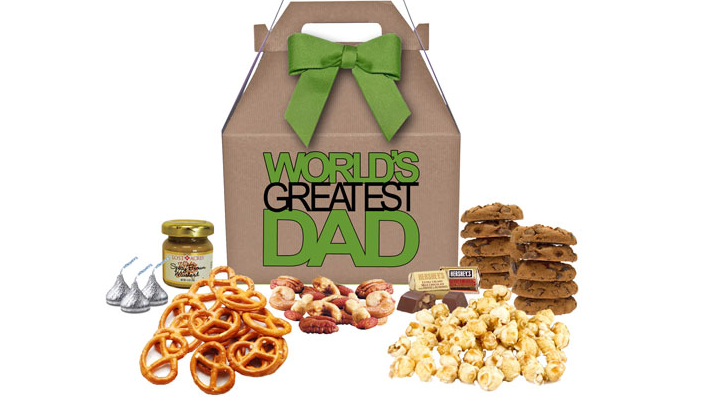 Show Dad he's the "World's Greatest Dad" when you send this delicious box of snacks. He'll love these sweet and salty treats including chocolate chip cookies, popcorn, pretzels with dipping mustard, assorted nut snack mix, and chocolate.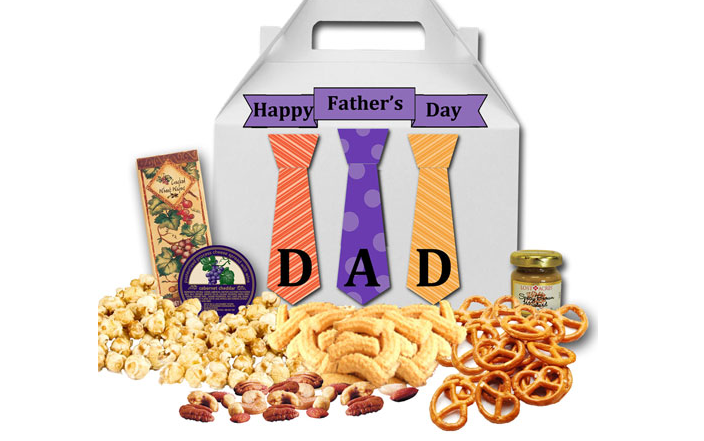 Remind your dad how great he is with a gift box made with him in mind. This handsome gift is filled with a hardy assortment of gourmet goodies he will love including wine flavored cheese and crackers, dipping mustard with pretzels, J&M original cheese straws, J&M jalapeno cheese straws, popcorn, and an energy blend nut mix.
$50.00 - Deluxe Gift Box includes a Godiva chocolate bar and Lindt chocolate truffles.
The Best Dads Get Promoted to GrandPa Gift Box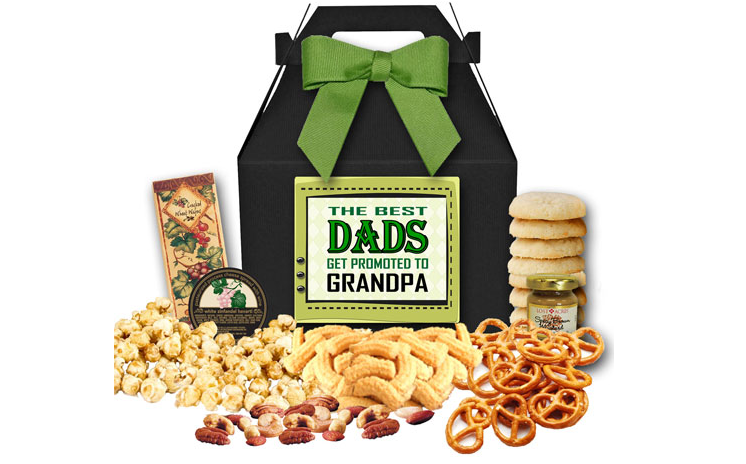 Any Grandpa will be sure to know just how much you appreciate him after seeing this custom gift box filled with an assortment of sweet and savory treats. Gift box includes wine flavored cheese and crackers, pretzels with a dipping mustard, cheese straws, assorted cookies, and an energy nut blend.
Shown at $40.00
Available at $35, $40, and $50.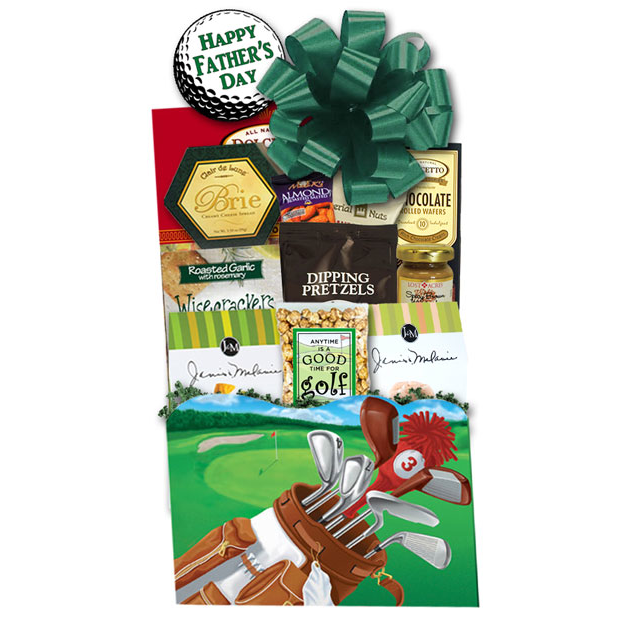 Sweet and savory treats for the Dad that loves golf.

Discover an unparalleled selection of gourmet snacks and southern-style cookies. Complete with premium "Anytime is a Good Time for Golf" popcorn, crackers and cheese, signature sausage, and savory cheese straws.

This gift is accentuated with a hand-tied bow and a Happy Father's Day golf ball shaped tag.
Play Ball - Father's Day Ceramic Baseball Mug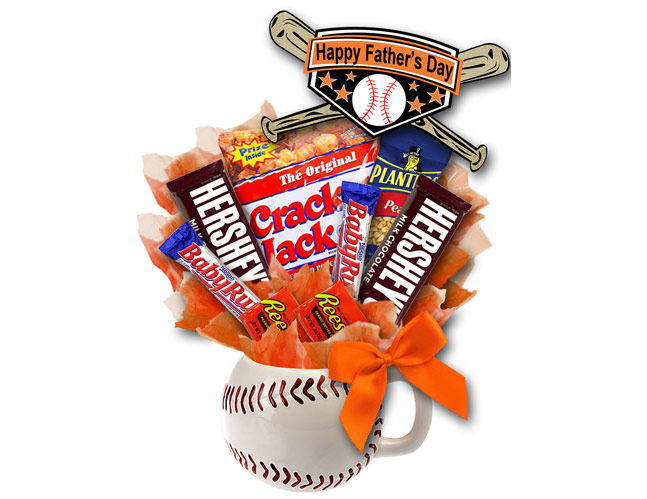 Celebrate Father's Day and his love of baseball.
A reusable ceramic baseball mug packed with ready-to-eat snacks sure to satisfy any Baltimore baseball fan. Plus, it's topped with a Happy Father's Day baseball themed tag.

This gift can be customized to match any team colors.
Show Dad your appreciation
by surprising him with a delicious sweet and savory gourmet gift.
If you're looking for Father's Day gift ideas, gourmet food gift baskets and distinctive gourmet gift boxes are always a delicious choice. Choose gifts every Dad will enjoy and appreciate - even the Dad who has everything. These gifts for Dad filled with sweet and savory delights will make his day even more special.
So whether you're shopping for your Dad, grandpa, great grandfather, brother, son, or an amazing uncle, we have something they'll love.
Delivering a gift to Dad is easy with local hand delivery and nationwide shipping.

Make his day with a creative one-of-a-kind Father's Day gift that says "Happy Father's Day" to your one-of-a-kind Dad.
Order early for customized gifts and for guaranteed delivery and shipping.



All gifts are designed and assembled after you place your order to ensure freshness.
Contact a Gift Specialist for complete details and customized gift ideas.
Contact us at: 410-313-8354
Email: GiftSpecialist

@GiftstoTreasureInc.com
We ship anywhere in the U.S., not just in Maryland, but you are still dealing with your local gift shop right here in Columbia/Ellicott City, Maryland. Local delivery is also available to the following locations: Ellicott City, Columbia, Catonsville, Clarksville, Dayton, Elkridge, Glenelg, Glenwood, Marriottsville, Northern Laurel, Owings Mills, Pikesville, Reisterstown, Savage, West Friendship, Woodbine and Woodstock.
Specializing in distinctive gifts, gourmet gift baskets, and unique gift boxes for every occasion.