all the Administrative Professionals in your office with a delicious gourmet creation!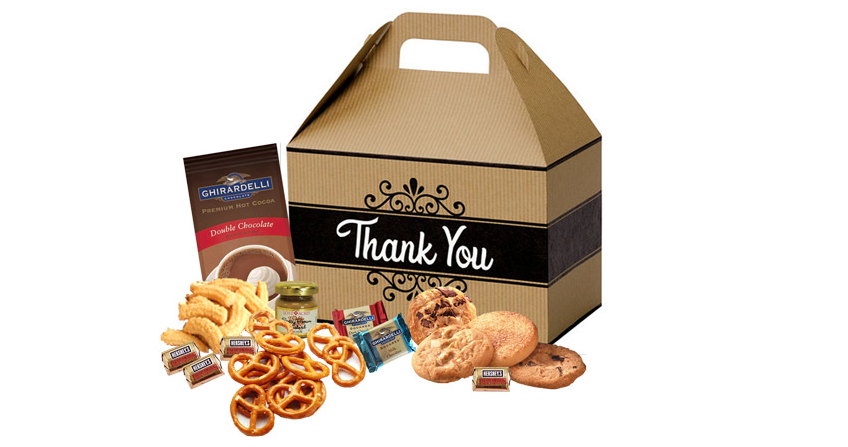 Express your gratitude with this elegant gift box that's filled with our finest gourmet treats. From Ghirardelli double chocolate cocoa and assorted chocolate squares to gourmet cookies and pretzels with dipping mustard, this mouthwatering assortment will help you show your appreciation.
Perfect for employees, teachers, customers or neighbors.
Two sizes available. Our larger size makes a great treat for the whole office!
Available from $25.00 to $45.00
Great Job! Administrative Gifts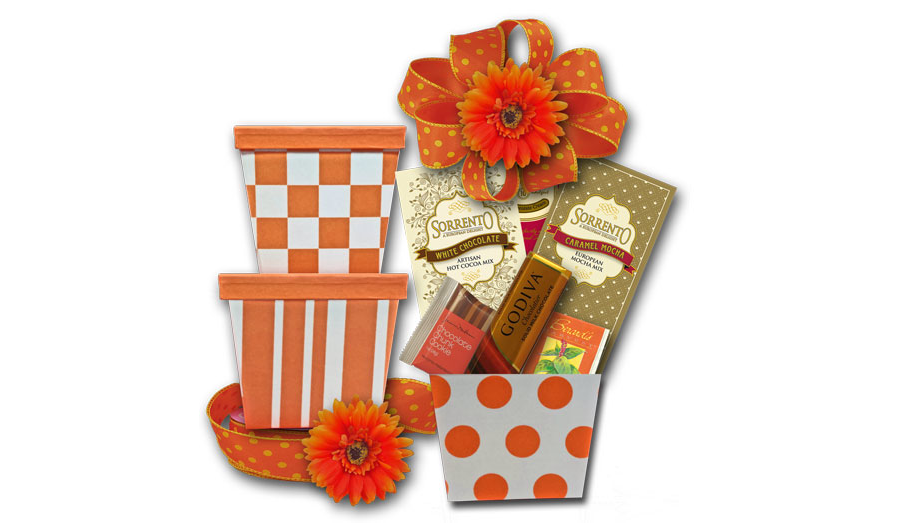 These office gifts are great for Administrative Professionals' Day. Three assorted container bases with the same gourmet delights. Each gift includes gourmet cocoa and tea, cookies and chocolate wafer. Add a Godiva chocolate bar to make it extra special.
Great keepsake container to hold small office supplies in.
Each gift is professional designed, gift wrapped and includes a personalized gift card to convey your sentiments.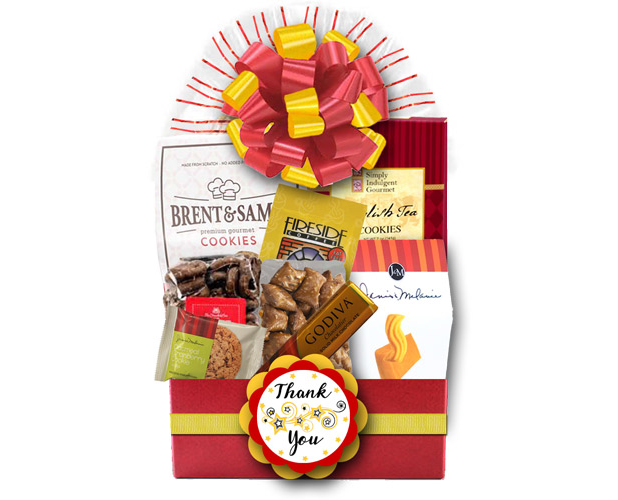 Show your appreciation while showing off your great taste with this beautiful gift basket filled with a delicious variety of sweet and savory snacks. From cookies and chocolate to pretzels and cheese straws, the Many Thanks gift basket is the perfect way to express your gratitude to your administrative professional.
Perfect for employees, teachers, customers or neighbors.
Each gift is professional designed, gift wrapped and includes a personalized gift card to convey your sentiments.
$45 as shown
Sweet Expressions - Admin Gift Box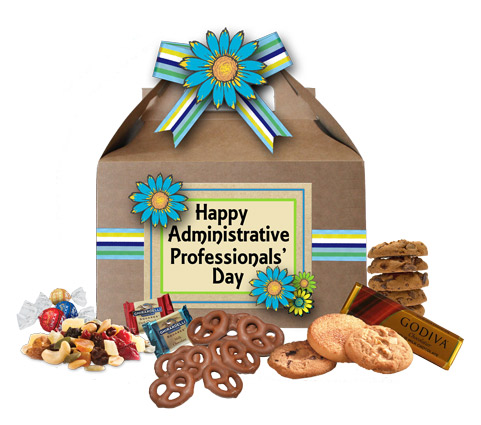 A chocolate lover's dream! It's all here in this sweet selection of dreamy chocolate treats: Godiva chocolate bar, Ghirardelli chocolate squares, Lindt chocolate truffles, chocolate covered pretzels, chocolate cookies, and more!
Available from $30 to $50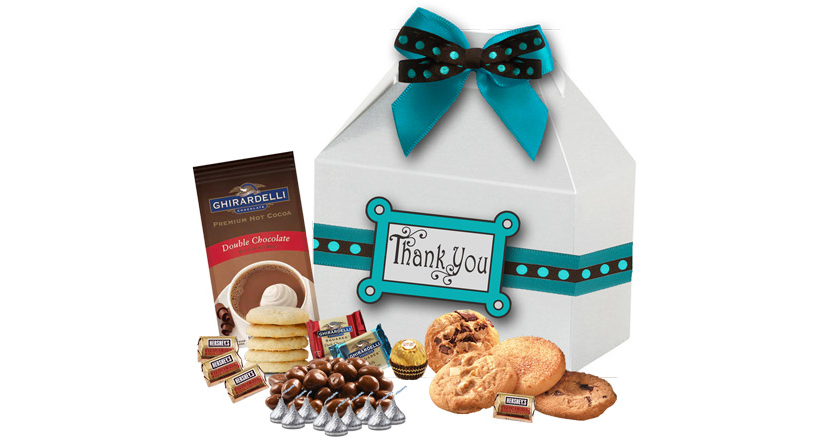 This appreciation gift basket is a great way to acknowledge someone who needs to be recognized and appreciated. This scrumptious assortment of sweet treats includes Ghirardelli chocolate squares, Ghirardelli double chocolate cocoa, assorted cookies, assorted chocolate treats and more.
Available from $25 to $45
We Couldn't Do It Without You!
Thank your Administrative Professional with mouthwatering gourmet snacks. This custom designed gift is piled high with the perfect combination of sweet and savory snacks.
Two sizes available to fit your budget.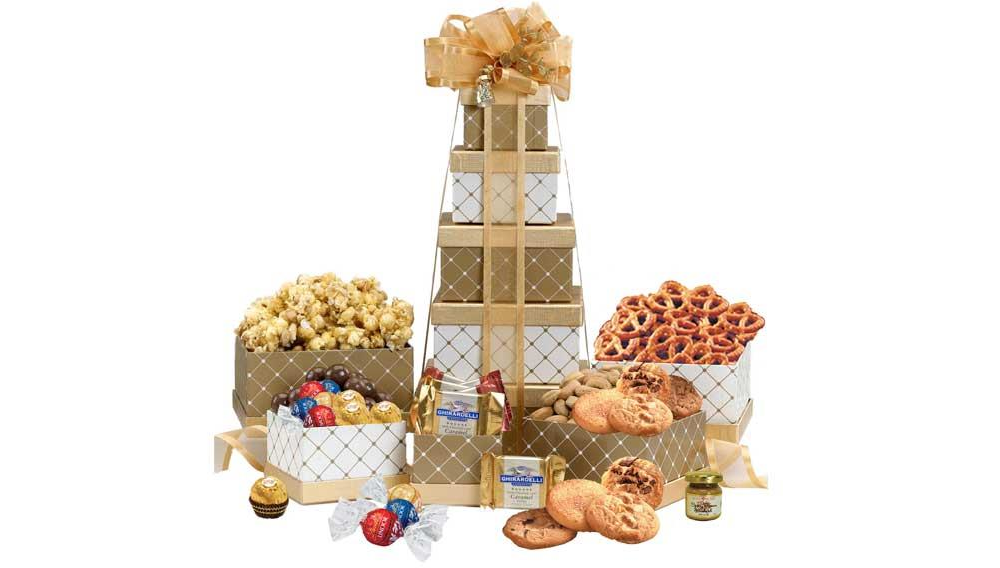 Boxes full of gourmet treats and tied with a silk bow. It's one of the gifts that people love to send and love to receive, because everyone enjoys premium chocolate sweets, and delicious gourmet food gifts. It's a classic, and for good reason.

Perfect gift basket for family and friends, or as a corporate office gift.
Shown at $55.00
Also available at $75.00
The $75.00 version has an additional layer filled with assorted cookies and chocolate truffles.
Customized gifts and gourmet gift baskets are the perfect way to recognize the efforts of the administrative assistants, secretaries, and other office professionals whose hard work make businesses and government offices operate efficiently. Administrative Professionals Week (formerly known as Secretary's Day) is your chance to express your appreciation and gratitude to all of the staff responsible for keeping your office running smoothly.
Give your employees a well-deserved break with the delivery of delicious treats; something for every personality and budget.
Executive Assistant Gifts

Office Staff Gifts

Secretary Gifts

Receptionist Gifts

Support Staff Gifts

Team Appreciation Gifts
No matter what Administrative Professionals Day gift you select, they will love that you've recognized their efforts! With gift ideas in all price ranges, we make it easy for you to say, "Thanks for a job well done!"
Please contact a Gift Specialist for complete details and customized gift ideas.
We personalize, design, and pack each gift as they are ordered to guarantee freshness. We'll do our best to satisfy your sweet cravings.
Maryland gift basket delivery
and nationwide shipping.
P.S. Don't forget Boss's Day comes around in October.
Specializing in distinctive gifts, gourmet gift baskets, and unique gift boxes for every occasion.